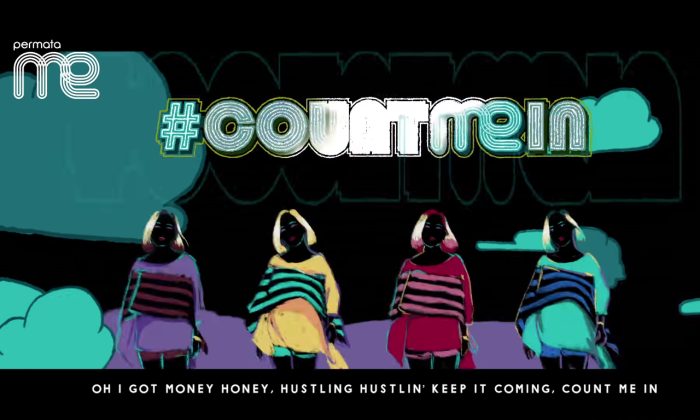 When it comes to banking, association with a catchy and hip music video may not always come to mind. But for the case of Indonesia-based PermataBank, being innovative and edgy in its marketing was essential in striking a connection with Millennial banking customers, said Amir Widjaya, senior vice president and head of marketing communication at PermataBank at Marketing's Content 360 conference.
As part of its PermataMe #CountMeIn campaign, which promotes it digital saving account products, PermataBank engaged Indonesia music producer and DJ Dipha Barus to compose a song titled "Money, Honey, Count ME In". Featuring vocals from singer Monica Karina, the catchy tune was accompanied with an eclectic and colourful music video.
[embedded content]
When asked by members of the audience about how a bank managed to get the music video approved, Widjaya said to take such a bold step, a brand needs to be courageous. This is not just for the marketing team, but for the management too.
"When it comes to making a big jump in the beginning, it is going to be hard. In the case of the music video, it was only after many different innovations, trial and errors before we got the result right," Widjaya said. He added that as PermataBank got more innovative and edgy in its marketing, its trust in and appetite for new ideas grew, allowing approvals to get easier over time.
But the mountain can't be climbed all at once. It is also important recognise the various steps – baby steps or big strides – taken along the way to prove that the brand is on the right path. For Widjaya, what was necessary was to create baby steps in fostering that culture of innovation. He added:
If you are able to innovate on a limited budget, approval of course comes easier.
"I always tell my team that while it easy to have a big budget and spend, the really good marketers are the ones who are able to work on a limited budget, but executive ideas in a very creative way," Widjaya said.
Picking the right partners
When it comes to creating content, other factors to consider also include knowing the brand's purpose, as well as the struggles, issues and pain points of its target audience. For Widjaya, knowing who the hero should be in a brand's content is also crucial. This includes the themes and topics the brand wants to understand and "own". Lastly, marketers also need to consider if the content allows the brand to tell its story correctly. Widjaya added:
At the end of the day, as marketers, we have to make our products the hero, and not just hip or cool.
Choosing the right content creators to work with is crucial for favourable outcomes. For the case of PermataBank, it chose to work with DJ Dipha Barus specifically because he had a very positive image.
"During our research stage, we found that Dipha Barus is particular when it comes to saving money, so we thought, why not?" Widjaya said. He explained that the duo was also tasked with creating lyrics and a song that is not only nice and hip, but also addressed the need to save money. Through the campaign, the bank hoped to communicate to younger banking consumers that thinking about money was the "cool and hip" thing to be doing at their age.
This was while ensuring the spot could grow organically across all radio stations and online platforms. Another important factor was to align its distribution channels, because the team did not have a huge budget to work with, Widjaya said.
"Millennials are a hyper-connected generation that values instant social recognition; they are the ones who talk about opportunities while thinking of the future. As such, having the right production and distribution strategy for our context was important," he explained.
In aligning its distribution channels, some things to consider would be finding out whether the content should be distributed offline or online. Next is deciding on the content distribution partner, and  the owned, paid and earned KPIs that the brand wants to achieve by producing and distributing said content.
When asked about the effective channels for amplifying its content, Widjaya said that it was difficult to find "an ultimate answer" because it depends on the campaign and which distribution partners the brand has experimented with. Thus, every campaign needs to be tailor-made in terms of channel and messaging.
"This is what makes the marketing job harder because you just have to test it and have the guts to tell your boss what works," Widjaya added.
Source: http://www.marketing-interactive.com/how-permata-bank-got-approval-to-produce-a-music-video-for-its-brand/